The Future of Reopening: How Restaurant Experts Will Save Costs in a Post-COVID World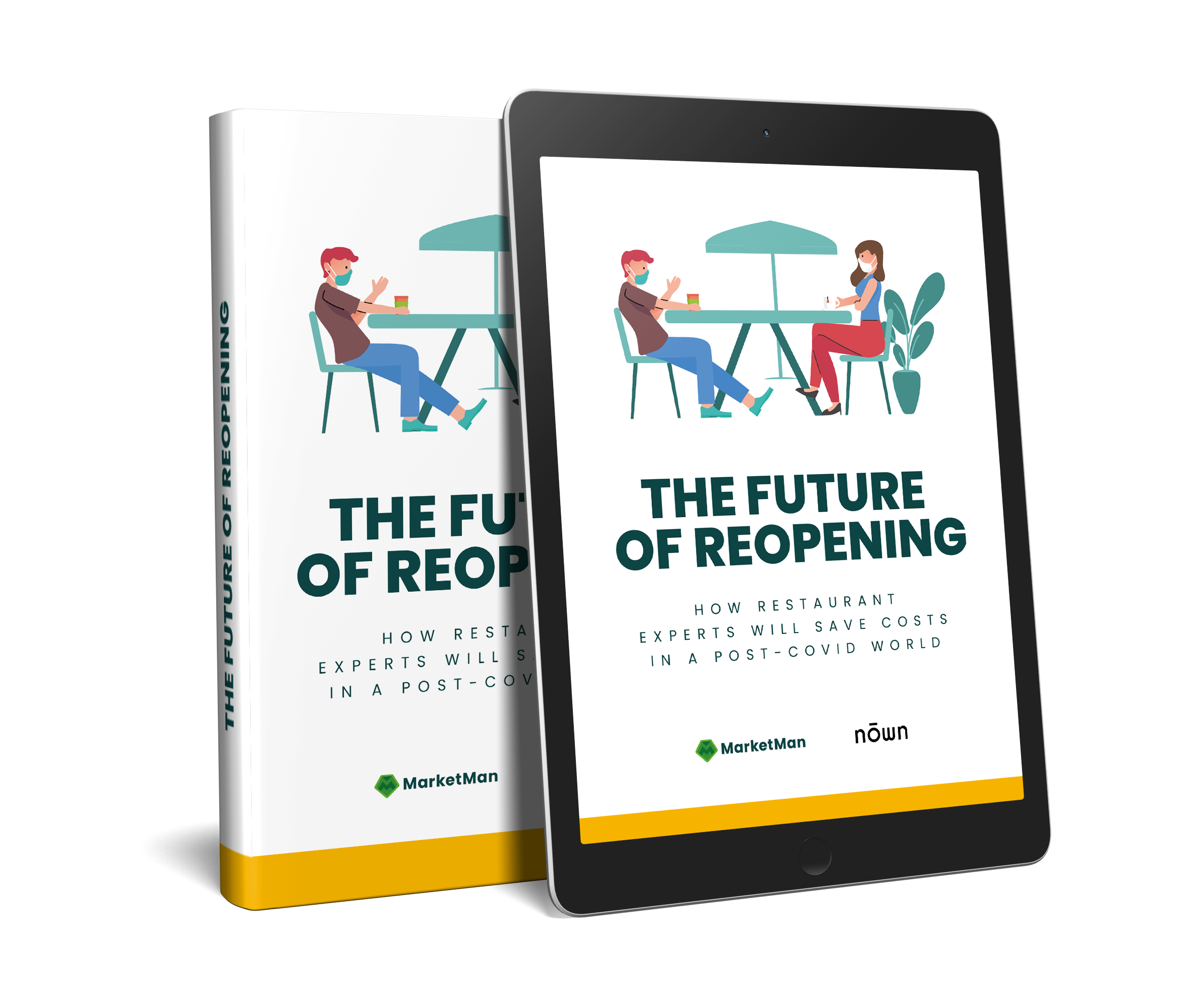 We'll show you exactly how to:
Revolutionize your menu and save on costs without sacrificing quality
Streamline your back of house workflows
Prepare and train your staff for all aspects of reopening
Weigh the pros and cons of opening a ghost kitchen
...and more!
Our Contributing Partners


MarketMan is the leading back-of-house solution that provides restaurateurs complete control over inventory, supply management, and procurement; ultimately empowering restaurateurs to manage more, faster.
Nown is an all-in-one, cloud-based customer recognition POS system that connects with the best services, tools, and hardware, giving businesses the tools they need to help them know their customers and keep them coming back.


"It's integral for business owners to reconsider how their business will operate in the long-term, and not simply based on short term trends."
What You'll Learn In Each Chapter
1. Find your biggest losers
Track menu item profitability
Reveal financial gaps
Understand 'Actual vs Theoretical' with calculation example
6. Connect with customers and speed up service
Ensure order availability
Increase turn-around time at scale
Incentivize digital ordering
2. Dishes with the highest variance
Build out cookbooks
Track and take inventory counts
Negotiate with your suppliers
Additional ways to minimize waste at your restaurant
Establish safety protocols
Share loyalty and rewards customer programs
Upsell and cross-sell menu items
3. Revolutionize your menu
Optimize your menu items
Conduct a menu audit
How to identify the most profitable items
8. Utilizing the right tools for success
Having real-time access for staff
Cutting costs with sales reports
Avoid over-ordering with waste reports
Spot trends and patterns in advance
4. How to manage your delivery channels
Maximize efficiency and scheduling
Automate orders during rush hours
Cut commission fees
9. Deploy a lean ghost kitchen
Determine if a ghost kitchen is right for your business
Pros and cons of starting a ghost kitchen
Business plans and models to consider
Step-by-step process of starting a successful ghost kitchen
Getting your loyal customers to support you
Utilize refillable digital gift cards
Offer discounts
Adopt hands-free payment solution
"People are still going to go to restaurants where they feel special, they feel seen, recognized, loved, and appreciated. While certainly technology amplified our ability to order while sitting in our homes, I think we all are yearning to get out and connect with people."
- Cary Mosier, Owner of Cafe Gratitude & Gracias Madre